I was minding my own business, enjoying a summer full of family visits, sleeping in, and reading indiscriminately when not once, not twice, but several times, the words critical race theory or CRT were set in front of me.
How do I as a teacher feel about critical race theory?
or, more recently, If you are a teacher and believe in CRT, then you really need to stop teaching period.
To be honest, I was at first a little baffled. I was unsurprisingly aware of critical race theory because of my background and work as a teacher, but I was unsure why people outside the classroom were talking about it, and even more confused about why were they upset about it.
It didn't take me long to figure out that Fox news has spent a sizable amount of time (and money) talking about CRT — one source says Fox has mentioned CRT 1300 times since March. What's their point? Why do they care so much?
You may be asking yourself, "What is critical race theory, anyway?"
I'm glad you asked.
Critical Race Theory "is a theoretical and interpretive mode that examines the appearance of race and racism across dominant cultural modes of expression. In adopting this approach, CRT scholars attempt to understand how victims of systemic racism are affected by cultural perceptions of race and how they are able to represent themselves to counter prejudice" (Purdue Owl).
In simpler terms, CRT is a viewpoint or lens which acknowledges that racism exists not only in personal acts of prejudice but in established systems; it seeks to identify the impact of racism and to do something about it. The work of CRT is done in several contexts — education, sociology, the legal system, etc. Most familiar to me, as a teacher of students, most of whom are people of color, is its use in rhetorical analysis — examining texts such as To Kill a Mockingbird to see how racism impacted not only the action of the story but the telling of the story. In other words, it not only points out that the unjust conviction of Tom Robinson in TKAM was an outgrowth of the racist beliefs of the fictional community of Maycomb, Alabama, but it also examines the fact that the author, Harper Lee, was a wealthy white woman and questions the impact of her race and class on the telling of the story.
The story, you may remember, is told through the eyes of a young white girl, Scout, who learns that "You never really understand a person until you consider things from his point of view… until you climb in his skin and walk around in it." Critical Race Theory might ask if Harper Lee, Scout, or any white person for that matter, is actually able to do that — to climb into the skin belonging to a person of color and actually experience what they experience.
The main reason why we can't, CRT would suggest, is because white people are not impacted by the racism that is baked into many systems within which we must function — education, real estate, employment, law and public policy, and the like. Scout can't understand what Tom Robinson experienced through the legal system because she would've been presumed innocent until proven guilty by virtue of her skin color, which is great for her. Unfortunately, Tom Robinson, a black man in mid-twentieth century Alabama did not have that privilege. He was assumed guilty the minute a white girl pointed her finger at him.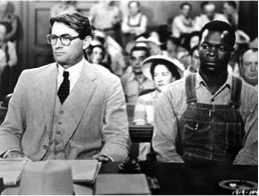 CRT is not only used to examine literary texts, but also to interrogate cultural practices. According to the Purdue OWL, CRT "scholarship traces racism in America through the nation's legacy of slavery, the Civil Rights Movement, and recent events." It looks at historical events and asks how race played a role, how were systems built, and how we got where we are today. Why is it, CRT asks, that a group of mostly Black people demonstrating at the steps of the Capitol are seen as 'dangerous' and dispersed by use of tear gas while a group of mostly white people, brandishing weapons and shouting racial epithets, are allowed to invade the US Capitol building during a legislative session with very little immediate consequences or threats to their bodies?
What is it that makes us see a group of Black people as 'threatening' and a group of white people as 'exercising their right to protest'? CRT would say it is the racism that we have been raised with that teaches us that white people are safe and Black people are dangerous. White people are nice; Black people are menacing. These insidious messages are woven into policies that shape our schools, our neighborhoods, our legal system, our health care system, and even our entertainment and business practices. Racism is so deeply embedded in our culture that some of us deny its existence.
We claim, "I am not racist," while acknowledging that Black students have less funding for education, fewer course options, and are less likely to be prepared for college than white students (UNCF). We say, "I stand for equal opportunities for all," while knowing that the black unemployment rate has been consistently twice that of the white unemployment rate for almost fifty years (Center for American Progress). We say, "I love all kinds of people," as we go on attending our all white churches, hanging out with mostly white friend groups, and shopping in predominantly white spaces. We benefit from the systems that keep Black people away from us — away from our schools, away from our jobs, away from our neighborhoods. We don't like to admit that, because it sounds awful and makes us feel bad, but if we take a look through a lens shaped by critical race theory, it will be very difficult to deny.
So you might ask yourself, why is FOX news spending so much time telling its viewers to keep CRT out of the classroom? What is it afraid of? Is it afraid that our children, if they are taught to use critical race theory will see what we refuse to see? that they will change what we refuse to change? that our experience as white people in America might be transformed?
Might our children and their children actually work toward a more perfect union where all people are seen as equal and endowed by their Creator with certain unalienable rights? Might our brothers and sisters of color, yes, fellow members of the family of God, more freely and equitably experience life, liberty, and the pursuit of happiness?
Fox News can say whatever it wants; I am going to employ any tool necessary to dismantle racism in my classroom. I am going to teach my students to ask all the questions — even the ones that make me uncomfortable. Why? because for my students, it is a literal matter of life or death — prison or freedom — poverty or prosperity — despair or hope.
In the words of my school's director of academics, "in each moment, I can either replicate oppression or tear it down." If CRT is a tool I can use to identify racism and tear it down, then let me get to it.
My students are counting on me.
For the entire law is fulfilled in keeping this one command: "Love your neighbor as yourself."

Galatians 5:14
**If you would like to partner with me in loving my students, please reach out to me at krathje66@gmail.com and I will share my classroom wishlist.